Start of 2 Letter 4 Number Series.
SEQUENCE RULES:
Passenger sequence basically ran from AA.1000 to ZZ.9999
Letters series not used on Passenger series runs.
CA-CZ Combination Series
DA-DZ Used Car Dealer
XA-XZ New Car Dealer
MD Medical Doctor

The letter O was never used as the first character of a letter group.
The Number 0 was never used as the first number in a group.
The letter Q is never used. The letter I was only used as the second character.
All 4 digit number series begin at 1000
Above & Below: Note size difference in the word "Connecticut"; A wider, more "squared off" font was used.
 
 

Remake with no DOT separator


GL collection

Two nice examples of 1957 re-issues.
Both have renewal tabs.
(No dot separator between letters and numbers indicates that

this number was a re-issue from a previous base.)

 
 
 
 
 
 
 

Above: BZ base with dot separator and no tab holes.
A 1964 issue perhaps with a 66 renewal?

 

 
 
 

 

Above: "G" series, 1970 issue. (DS collection)



(DS collection)

Above: "K" series, 1972 issue. (GL collection)

 

 

Above: M series w/74 expiration. (DS collection)

Above: The N-series was the last of the Blue original base plates.
(There were no "OA-OZ" plates issued.) (DS collection)

 

 
 
Note: The "IA-IZ" series was skipped.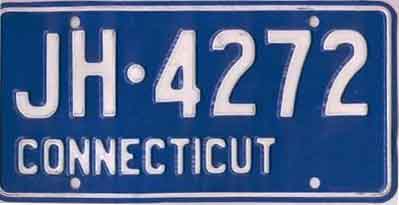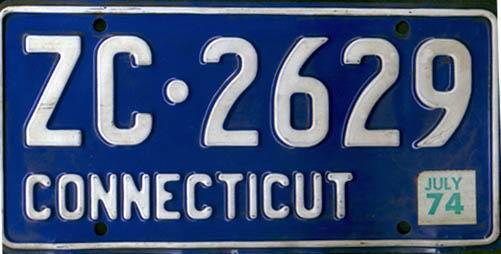 GL collection
Plates ZA-1000 thru ZF-9999 out of sequence.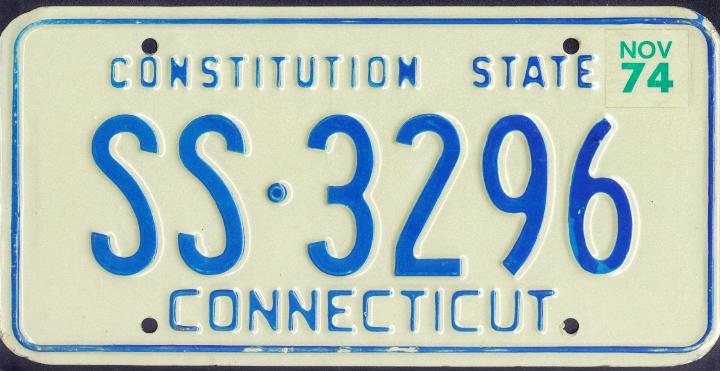 Above: A rare "Polyvend" made plate with a 74 sticker.
These plates started with SA-1000, skipping the PA series.
(eBay photo)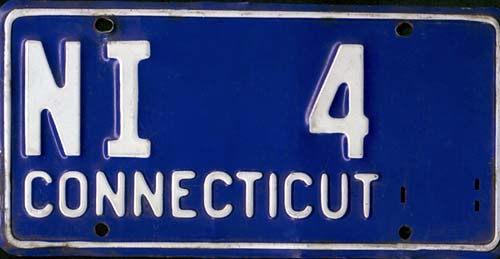 Cichon collection
This is a 57 base showing a re-issued number from a much older "N over I" series.
Above: Six number plates were issued from 1957-1965 for new registrations.
| | |
| --- | --- |
| Above: 1962 "Dot" separator added, & still has tab holes. |   |