Combination plates started in 1922. All begin with the letter "C" and looked like passenger plates till 1967. These are required for light trucks, but can be transfered to passenger cars. 57 base plates were white on blue. All were reissued on white bases in 67. The word "Combination" was added in 75 to distinguish it from the Polyvend made passenger plates. The letter "C" was moved in later series. The base was revised in 2000 to the current light blue base. Combination plates could be used on optional specialty plates also.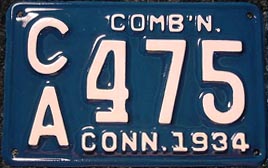 eBay photo
Above: Combination; 1934 White/Blue
Above: Combination, 1936 Yellow on Blue. (GL collection)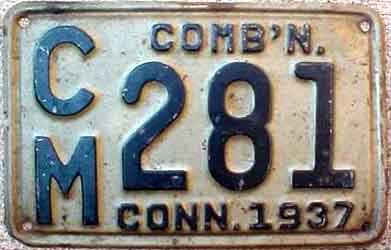 Above: Combination, 1937. Base still using stamped year.
Passenger plates switched to renewable year "tabs" this year.(JWW collection)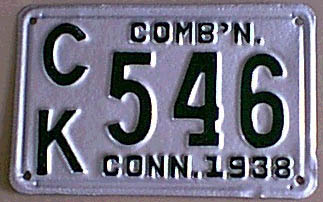 Above: Combination, 1938 Black on Aluminum
Above: Combination, 1939 issue. (eBay photo)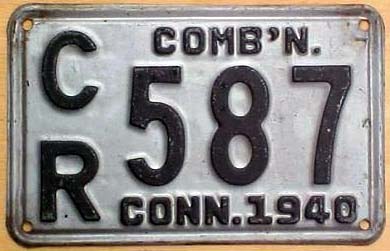 Above: Combination, 1940 Black on Aluminum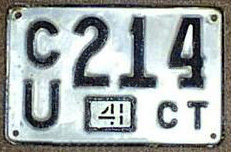 Above: Combination, 1941 appears to be incorrect. The first year with a renewable year "tab", but this base is a 1948 issue. The word "CONN." should be vertical on the right side in 41. Note that the "COMB'N" designation is dropped. These plates now look just like passenger plates, other than they all begin with the letter "C".
Above: 1951 date tab on a 1948 base. Nice older low number series, probably dates
back to 1932 when the "letter over letter" series began.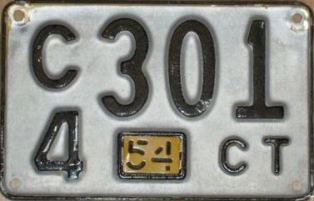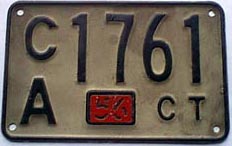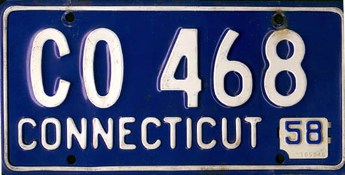 Above: A re-issue of an older series. These were re-issued again in 1967 on white bases.
(GL collection)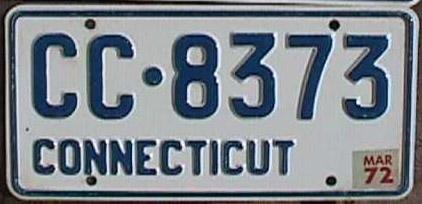 Above: 1972 issue from Number series CA.1000 - CZ.9999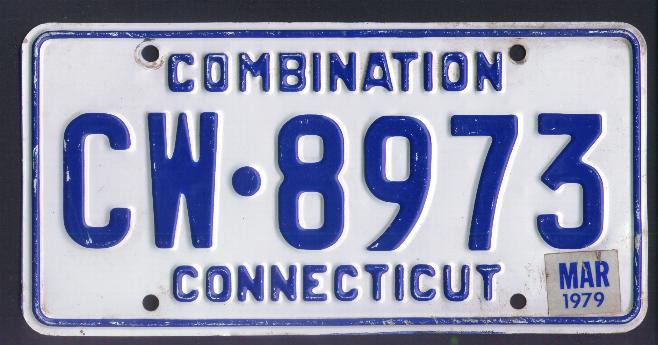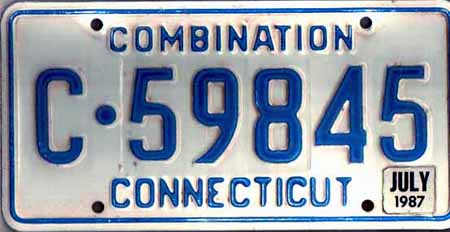 Above: C-10000 thru C-99999 ran from 1980-1982.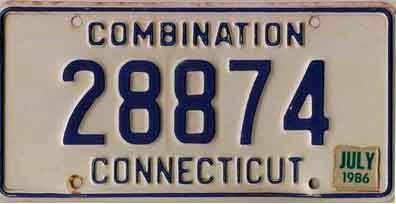 1980-1985 Number series 10000 to 99999 ended mid 1985, Notice no C prefix was used.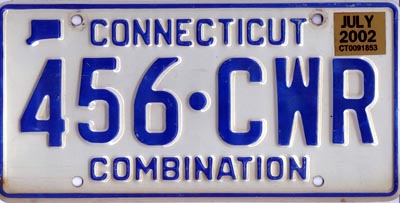 The above plate was issued in 1994. This series ran 100-CAA thru 999-CZZ. (MWG collection)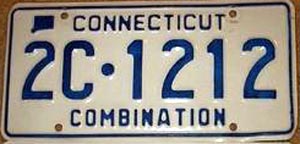 Above: Variation of "C" placement during the late 1990's.
This series runs 1C.0001 - 9C.9999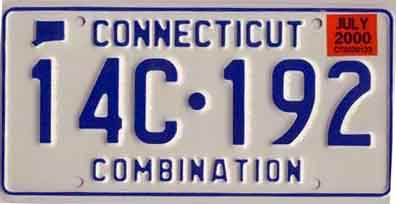 Above: Another "C" placement variation.
This series ended in year 2000. It ran "10C-100 thru 99C-999".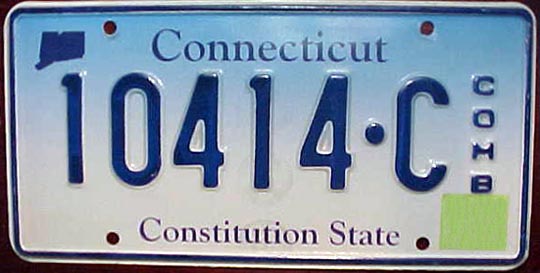 Year 2000 issue looks like a passenger plate base, but has "COMB" to the right vertical.
10000-C thru 99999-C ran from Jan 2000 thru July 2001.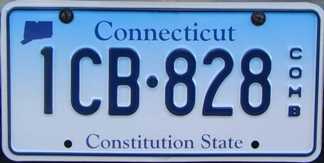 This number series started in July of 2001 and ended about Nov. 2004
1CA.001 - 1CZ.999 THEN 2CA.001 - 2CZ.999 ect. to 9CZ.999
Sequence will yield about 178,200 plates. (I and Q not used)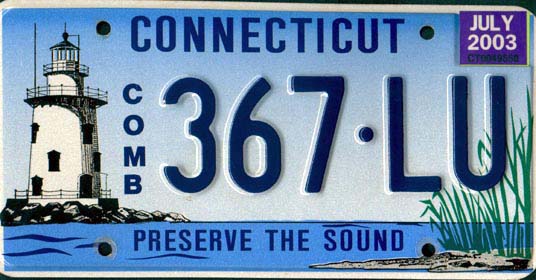 The "Preserve the Sound" Combination plate above was issued to me in March 1999. Most Combination LIS plates use this sequence, L designates LIS. (DS collection)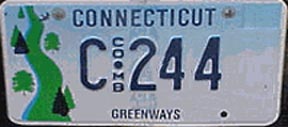 Above: Optional Greenways Combination plate.
Note odd placement of "COMB" lettering.